MIC underwriting: Introducing Canada's 1st MIC Underwriting to servicing system.
Dolphin's MIC Underwriter provides the front end software solution for funding loans, seamlessly integrating with the new MIC Manager servicing software.  All transactions posted in MIC Underwriting and MIC Manager are further integrated to a back end accounting platform providing a full end to end software solution for MICs and Canadian private lenders.
MIC Underwriting provides reports and corporate analysis to assist with underwriting decisions. With the customized conditions, commitment letter and workflow, the system can be configured to meet your specific underwriting requirements.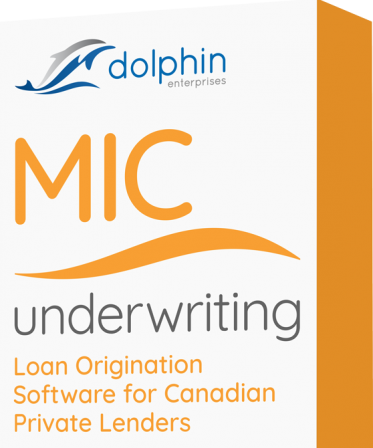 Seamless integration with Dolphin's MIC administration system

Customizable underwriting conditions

Generate commitment letters

Integrates all transactions to a general ledger to maintain accurate accounting records

Executes calculations such as payment amounts, interest adjustments, mortgage amortizations and disbursement fees.

Integrated workflow management system

Real-time portfolio analytics
609-850 West Hastings Street, Vancouver, BC V6C 1E1 • Office (604) 685-6721
For inquiries, contact Dolphin: info@dolphinent.com