Syndicate manager: The only software solution made specifically for syndicated lenders.
Dolphin's Syndicate manager was specifically built to manage investments directly into mortgages. Investments can maintain different interest factors than the managed mortgages and can have hundreds of associated investors. Syndicate manager can manage many different methods for calculating and collecting management fees. All transactions posted are directly updated to the fully customizable Chart of Accounts for real time accounting for your business.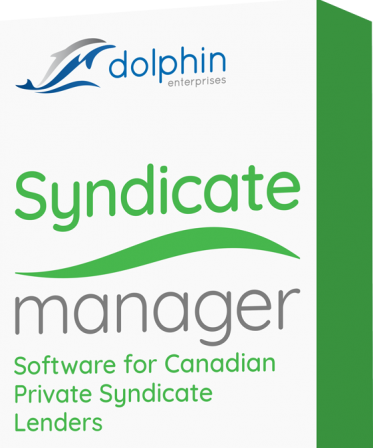 Manages many different methods for calculating and collecting administration fees

Manages private lending business from 10 million to over a billion dollars of capital

Direct distribution to investors internally or manually for effective investor management

Includes all the functions, reports and features of the Mortgage Module for effective loan management

A true accounting system for any Canadian Syndicated private lender
Dolphin's Investment Module will manage investors who directly invest in Mortgages. With the flexible backend of the software the system will manage and calculate individual returns and interest rates as well as the specific administration fees.
Mortgage Module for the Syndicate Manager includes over 88 methods for calculating interest including interest on interest calculations using the straight- line interest factor.   Mortgage Module includes Underwriting Reports for effective portfolio analysis and business making decisions.
Syndicate Manager is unique is that it is configured to meet the specific accounting system for each Syndicate Lender. Every transaction posted is automatically linked to a Chart of Accounts for real time accounting thus removing the need to export accounting data and for duplicate accounting entries in a third party software. Similarly,  the accounting system was designed specific for the business of Canadian Syndicated Lenders.
609-850 West Hastings Street, Vancouver, BC V6C 1E1 • Office (604) 685-6721
For inquiries, contact Dolphin: info@dolphinent.com