Web manager: An online portal for your investors and borrowers.
The system was designed with the specific needs of MICs and private lenders in mind. Built with over 10 years of hands on experience working with some of Canada's leading MICs, Dolphin's Web Manager is the perfect balance of simplicity and functionality.
Integration with Dolphin's flagship product, Web Manager, means you will never have to double enter your data again. Web Manager integrates with MIC Manager so that you minimize your risk while increasing data integrity and work efficiency.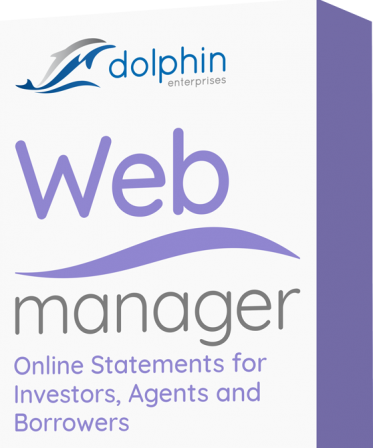 Seamless integration with Dolphin's mortgage administration system

Faster & more convenient – access account information anytime

24/7 online access to statements and balances


Allow your investors to update Know Your Client (KYC) requirements

Safer & more secure – no account data is sent over email and no paper statements sit in your mailbox

Environmentally-friendly – save paper while reducing costs


Real-time portfolio analytics
Your clients will love our new online statements. Allowing them to access quarterly account statements, T5's, payment schedules and account balances.
Know your Client & CRM2 requirements
Stay compliant with Canadian Provincial security commissions with our KYC forms and CRM2 statements.
609-850 West Hastings Street, Vancouver, BC V6C 1E1 • Office (604) 685-6721
For inquiries, contact Dolphin: info@dolphinent.com